Welcome to Adamstuen Antikvariat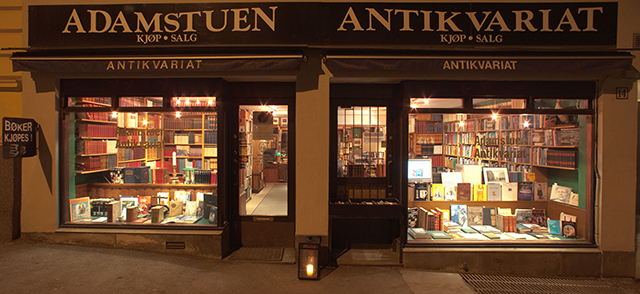 Adamstuen Antikvariat was founded in 1983. From the beginning we have focused on art history, local history, collected works and quality fiction. We also feature maritime books, IInd W.W. history, general history, literary history, hunting and fishing, polar literature etc.
Our store is located between Bislet Stadion and Ullevål Hospital. You can reach us by using tram no. 17 or 18 (destination "Rikshospitalet"). Get of in "Stensgata" and walk about 50 m./150 ft. upwards Theresesgate. You will find us on the right.
Conditions
If nothing else is indicated, the book will be a first edition, in good condition and stapled, published in Oslo and with octavo format. If you want to collect your books in person, please contact us in advance, as many of the books are in a stockroom outside the store.
New private customers need to pay in advance(in Norway also by C.O.D.), whilst institutions and regular customers will be invoiced. Freight will be added. Cheques and bank transfers must be in Norw. currency, and all bank charges must be paid by the buyer. We accept Visa and Master Card. Please send us a fax or letter with your card number, expiry date and signature.
Please DO NOT send any card details by e-mail.
---
Contact:
Adamstuen Antikvariat
Theresesgate 14
N-0452 OSLO

Phone: (+47) 2246 3079
Mobil: (+47) 90739163

E-mail: ebergman@online.no
---
Bank accountnumber:
DNB 1594 05 70430
IBAN NO 15 15940570430 BIC: DNBANOKK